GCT Studio Bushido Two-Player Introduction Set 2022 English Tabletop Game Game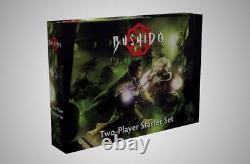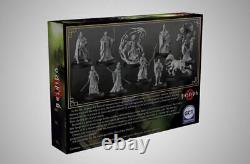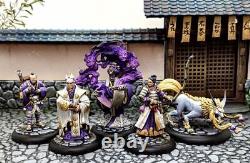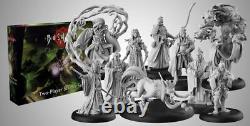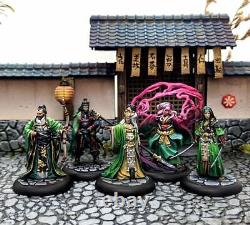 GCT Studio Bushido Two-Player Introduction Set 2022 Englisch Tabletop Spiel Game. Bushido Two-Player Introduction Set 2022 (Englisch). Bushido is a game of savage battles, of cunning stratagems and last-ditch defences, and where debts of honour are paid in blood. In Bushido, the fate of the world hangs not on armies but on individual heroes, people of extraordinary capacity, attuned to the all-permeating life force known as Ki.
This force is the fabric of the Bushido universe, and those with the appropriate training or natural talent can tap into this energy source and gain seemingly superhuman powers. In the world of Bushido, the delicate tapestry of Ki - and thus the universe itself - is threatened by the forces of imbalance, and it is up to you to protect it - or help rip it apart. In a game of Bushido, nothing less than the fate of the universe is at stake. Are you ready for the challenge of the Way of the Warrior? 5 Mitglieder der Hozumi Familie (Ronin, können für unterschiedliche Fraktionen eingesetzt werden).
5 Mitglieder der Kiyozumi Familie (Ronin, können für unterschiedliche Fraktionen eingesetzt werden). 1 Softcover Regelbuch für Bushido Risen Sun. Die hier angebotenen Modelle bestehen aus Resin und werden zerlegt und unbemalt ausgeliefert.
Bitten lesen Sie sich unsere Artikelbeschreibung genau durch, sie ist Bestandteil unseres Angebotes. Nur so können wir Ihnen einen erfolgreichen Onlinehandel garantieren. Wir bieten ausschließlich Lagerware an, die auch sofort verfügbar ist. Ausgenommen sind Vorbestellungen, beachten Sie hierbei den Erscheinungstermin in der Artikelbeschreibung! Im Zusammenhang mit dem Vertrieb von Batterien oder mit der Lieferung von Geräten, die Batterien enthalten, sind wir verpflichtet, Sie auf folgendes hinzuweisen: Sie sind zur Rückgabe gebrauchter Batterien als Endnutzer gesetzlich verpflichtet.
Sie können Altbatterien, die wir als Neubatterien im Sortiment führen oder geführt haben, unentgeltlich an unserem Versandlager (Versandadresse) zurückgeben. Die auf den Batterien abgebildeten Symbole haben folgende Bedeutung. Das Symbol der durchgekreuzten Mülltonne bedeutet, dass die Batterie nicht in den Hausmüll gegeben werden darf.
Pb = Batterie enthält mehr als 0,004 Masseprozent Blei. Cd = Batterie enthält mehr als 0,002 Masseprozent Cadmium.
Hg = Batterie enthält mehr als 0,0005 Masseprozent Quecksilber. Bitte beachten Sie die vorstehenden Hinweise. Eine Rechnung mit ausgewiesener MwSt. Versandkosten sind von der Ware abhängig und sind bei jedem Artikel hinterlegt Versandkosten fallen immer nur einmal an, egal wie viele und welche Artikel Sie bestellen!
Bei Selbstabholung werden keine Versandkosten berechnet. Vereinbaren Sie bitte ein Abholtermin mit uns. Alle genannten Markennamen und Bezeichnungen sind eingetragene Warenzeichen ihrer Eigentümer. This item is in the category "Sammeln & Seltenes\Rollenspiele & Tabletops\Figuren & Tabletops\Tabletopspiele Sonstige".eu" and is located in this country: DE.
This item can be shipped worldwide.
EAN: 16441
Marke: GCT Studios