Conus floccatus 58.7-60.4mm SET OF TWO PCS GEM IMPORTANT GOLDEN TREASURE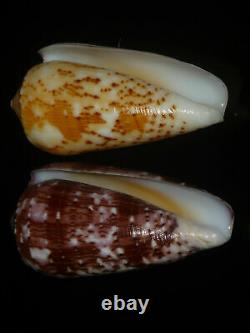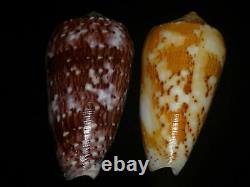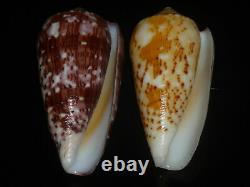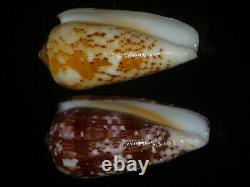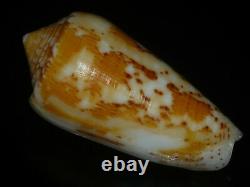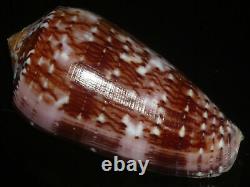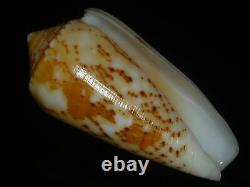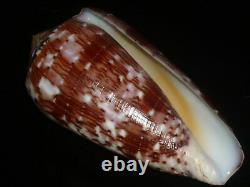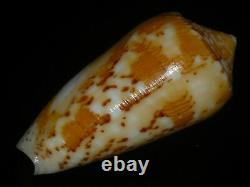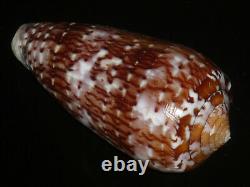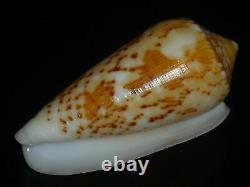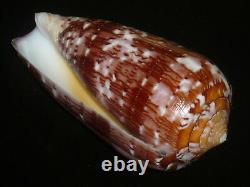 The seashell offered here comes from my personal collection and was taken many years ago; please. Thank you for your continued interest and friendship. Conus floccatus 58.7-60.4mm SET OF TWO PCS GEM IMPORTANT GOLDEN TREASURE FROM PRIVATE SHELL COLLECTION. Description : Two shells brought together from populations two thousand miles away, and both representing the most beautiful forms a connoisseur can hope to find, and by happy coincidence, both shells are about the same size and equally of GEM grading and preserved in all natural condition. One of the famous and classic rarities known and appreciated by generations of conchologists, the first piece is a uniquely beautiful canary yellow and golden rare specimen with white splashes, and the other one an aubergine purple and brown beauty with the same kind of soft splash pattern as if it was painted by an impressionist artist; but then of course, nature herself is the best artist teaching the alert observer and providing endless variety of inspiration to the onlooker.
Pictures: All pictures are recently taken from the original shell which is actually offered for sale; in the process of photographing I employed a 14Mb Camera, and I guarantee for all my pictures that they are not retouched in any way: they represent the respective shell as is, in highest resolution, and they were taken from different angles in order to make clearly visible all the finest details, and there is nothing to hide. Size: Shells are measured by plastic calliper, and size is given in millimetres. Please allow a slight degree of variation since this is not a digital measurement.
The size given is always the largest extension of the respective specimen: in snails this is usually the length from apex to siphon, but in some cases the measurement from the tip of the shoulder (or wing) to the siphon is larger, and consequently the size given; in spiny shells the size always includes the spines, that goes for snails as much as for bivalves like the spiny oyster; bivalves are generally easy to measure but please keep in mind that in Pectinidae the largest size is usually from the left ear diagonally over the body. If in doubt please ask for more information. General remarks: My private collection of seashells was acquired during more than four decades, and I was lucky to benefit from personal contacts all over the world at an early stage. It all started in 1956 when visiting London where I came across a venerable old Chinaman running a curious restaurant in Soho: nothing much about shells you think? Well, he wanted to introduce me to culinary aspects of giant clams and I was hooked instantly, but not on the dish he served, in fact I did never come to appreciate the meat of bivalves much less snails!
Coming to the point I left London six months later with several Tridacna shells of enormous dimensions. In the following years I always carried shells when travelling and especially the 70's, glorious times which were the true heydays of incredible plenty combined with a still poorly developed market for the amateur conchologist. Clover, just to name two of my regular suppliers in the USA; I also ventured to have shells directly imported from South Africa (the Meyer collection) and thanks to my particular knowledge of South America I was always having very interesting material from Spanish speaking countries, from Caribbean down to Patagonia. Many of these areas are long closed and shells are only available from old collections like in the case of Galapagos I consider myself lucky to know Dr. Gustavo Noboa personally or more recently the Noumea Lagoon of New Caledonia (some of its treasures came to me via the Pierson collection). Registration is optional, and I strongly recommend to register all parcels for your safety, please indicate when ordering and add the optional USD 5.00 charge once for each parcel. For valuable shells I suggest in some cases value declared and fully insured.
All these certificates can be obtained for you on request at actual cost, please contact me for further details. Please note that this is strictly a private sale, and I do offer this service on a voluntary basis to all collectors. The item "Conus floccatus 58.7-60.4mm SET OF TWO PCS GEM IMPORTANT GOLDEN TREASURE" is in sale since Wednesday, December 11, 2019. This item is in the category "Collectibles\Rocks, Fossils & Minerals\Shells\Cypraea". The seller is "gisela-sea-shells" and is located in Leinfelden-Echterdingen.
This item can be shipped worldwide.