Tintype Rare Matching & Identified Portraits Of A Girl & Her Pumpkin Head Doll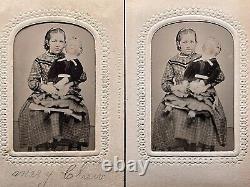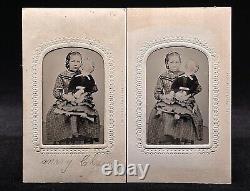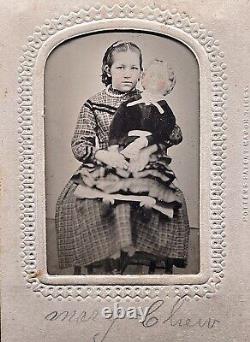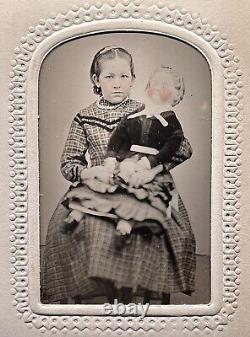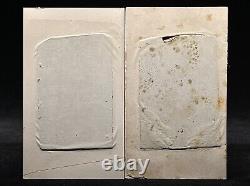 TINTYPE - RARE MATCHING & IDENTIFIED PORTRAITS OF A GIRL & HER PUMPKIN HEAD DOLL. Her penciled signature can be seen at the bottom of one of the portraits. In all my years of collecting antique photos containing dolls, this is the first example I have found with a pair containing two nearly identical poses and taken on the same day. The only difference seems to be the child's head was slightly captured at a different angle. Mary Chew held her large Pumpkin Head doll proudly as part of her trip to the photographer's studio during the 1860's.
The two tintypes are each held in the same CDV size mats. Good luck to my fellow 19th Century photo collectors as well as any antique doll collectors landing this rare set of doll images.
Please be sure to check out my other listings. CONDITION : Please view my detailed photos for the actual condition of the image and as part of my description. Both tintypes contain excellent contrast, tonal range and sharpness. The image contains very minor surface wear consistent with age. Amazing details and subtle hand tinting can be seen on both subjects making this a pair of tintypes for your collection.