Set Of Two Outrageous 1/6 Plate Tintypes Two Gals Hamming It Up For The Camera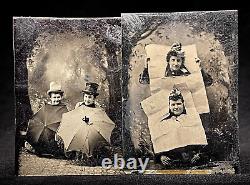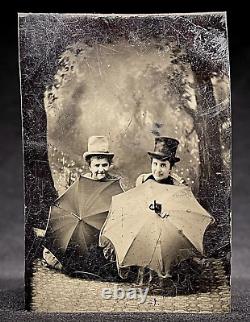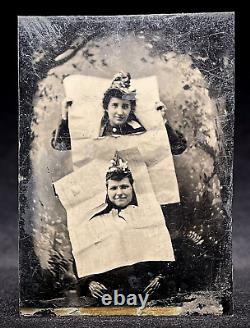 SET OF TWO OUTRAGEOUS 1/6 PLATE TINTYPES - TWO GALS HAMMING IT UP FOR THE CAMERA. I happen to love funny situational tintypes from this period in history. These are two companion tintypes I have owned since I was about seven years old. These two images truly influenced my becoming a collector of 19th Century photography. You will receive the image of the women hiding behind the two umbrellas with top hats and the other tintype of them poking their heads through two newspapers. Both are fantastic and hilariously fun sixth plate images. CONDITION : Please view my detailed photos for the actual condition of the image and as part of my description. Both tintypes contains excellent contrast, tonal range and good sharpness. The images both contain very minor surface wear consistent with age.
Outrageous subject matter make these two sixth plate tintypes a must have for your.